STAY TUNED FOR UPCOMING EVENTS
Daffodil Bulb Sale – Support our Bulbs for Bucks Program!
Fall Lecture Series in Partnership with Delaware Valley University

Save the Dates:
Wednesday, September 27, 2017
Wednesday, October 18, 2017
Wednesday, November 15, 2017
Wednesday, December 20, 2017
Detailed Lecture information available soon on our Events Page!
---
It all began decades ago with the seed of an idea…and for that seed to continue to grow, we need YOUR support!
As we embark on 2017, we reflect back and graciously thank you for your past support. Looking forward to the future, we ask for your additional help as the end of the year draws near. We are so very grateful to the community for supporting us and allowing us to continue our mission to preserve and enhance the beauty of our communities.
This past fall, we grew our Bulbs for Bucks program with requests culminating in the planting of an additional fifty thousand daffodils, bringing the bulb plantings to over 1,300,000 daffodils throughout Bucks County. Last year we are especially proud to have honored many who have come before us: our fallen veterans at Washington Crossing Memorial Cemetery, the Chalfont Cemetery, the Pearl S. Buck House, as well as celebrating 100 years of scouting in Lenape Park in Sellersville. We plan on continuing our very successful educational lecture series partnership with Delaware Valley University, our youth scholarship program and co-sponsoring Gardening with Kids programs. In addition, we will endeavor to continue to sponsor the maintenance of Bucks County public gardens, and to bring public awareness to the need for more green space in our urban areas with the wonderfully successful pop-up parks, all to further beautify Bucks County.
Please join us in bringing an even bigger Bucks Beautiful presence to our community in 2017. Your tax-deductible contribution will help to ensure the future of our community gardens, educational programs and the daffodil plantings through the beloved Bulbs for Bucks program.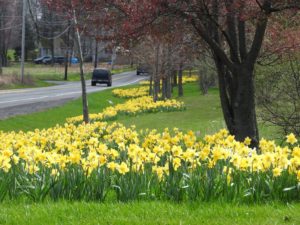 Visit our convenient, secure online contribution page to Donate Today!
Or, make your gift by mail by sending your check to: Bucks Beautiful, 85 E. State Street, Doylestown, PA 18901.
Your continued support means the world to us, and we look forward to showing you how!
THANK YOU FOR YOUR SUPPORT!
All contributions are tax deductible to the fullest extent allowed by law.
Bucks Beautiful is a 501(c)(3) Corporation. Bucks Beautiful tax id #: 23-2657994. The official registration and financial information may be obtained from the Pennsylvania Department of State by calling toll-free within Pennsylvania by calling 1.800.732.0999. Registration does not imply endorsement.
---
Bucks Beautiful Wishes to Thank our Major Contributors for their Generous Support!
Bucks Beautiful
85 E. State Street
Doylestown, PA 18901
Tel: 215-340-3639 Fax: 215-345-4324
E-mail: info@bucksbeautiful.org